| | |
| --- | --- |
| Berner Oberland day to day description and photos | |
Day 2 - Hollandiahütte to Konkordiahütte
On day 2, we make a ski ascent of the Äbeni Flue, a peak to the north of the hut just shy of 13,000 feet. After this we continue on to the Konkordiahütte which lies at the center of the web of giant glacial arms, like spokes on a wheel.
The Konkordia Hut, where we will spend the night, is on a rocky promontory to the east. When the hut was first built the ice of the glacier was not far below. Now, after a century of warming climate, the glacier is over 130 meters below the hut, a distance we climb via a very steep stairway. (Skis are left at the bottom!)
Day 2 - HollandiahŘtte to KonkordiahŘtte

Ascent

872 meters

2860 feet

Descent

1262 meters

4139 feet

includes skiing the Äbeni Flue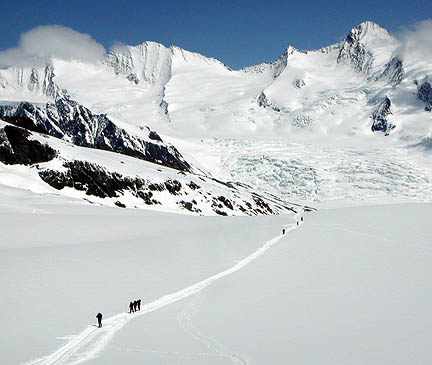 Looking down the Grosser Aletschfirn toward the Konkordiaplatz. The Konkordiahütte is just our of view to the right.
The Hollandiahütte. The Äbeni Flue is up to the right out of view.
This shot was taken just below the Hollandiahütte. On the right is the Aletschhorn and behind on the left are the peaks of the Fiescher Gabelhorn, the Schönbühlhorn, and the Gross Wannenhorn, a later objective on our tour.
Serving soup! A warm start to nearly all of our meals in the huts.
The Konkordiahütte. Rosmarie and Christian, the hut guardians, are wonderful hosts.
Continue on to Day 3.....
All images, layout and text © 2002 Cosley & Houston Alpine Guides, All Rights Reserved