| | |
| --- | --- |
| Plateau Haute Route day to day description, map and photos | |
Day 3 - Cabane du Trient to Bourg-St-Pierre and on to the Cabane du Vélan
This day offers one of the best descents on the Haute Route, that of the Val d'Arpette. From the Trient hut a quick, steep descent down the Trient Glacier leads to the Col des Ecandies, and to the Val d'Arpette and Champex. The Val d'Arpette usually offers an incredible run down cold, north facing slopes. The total descent from the Col des Ecandies to the town of Champex is almost 4400 vertical feet.
We continue by taxi to Bourg-St-Pierre.
From Bourg-St-Pierre, we continue on foot initially carrying skis before skinning up to the Cabane du Mont Vélan. Depending on snow levels, we usually can ski after about an hour or two of walking. Once on ski we enter into the deep valley between Mont Vélan and the Grand Combin. The last couple thousand feet climb steeply up to the hut. This is a relatively new hut and resembles a space-age ship's prow. The views across the valley towards the Grand Combin are impressive.
Day 3 - Cabane du Trient to Bourg-St-Pierre and on to the Cabane du Vélan

Ascent

1020 meters

3346 feet

Descent

1733 meters

5684 feet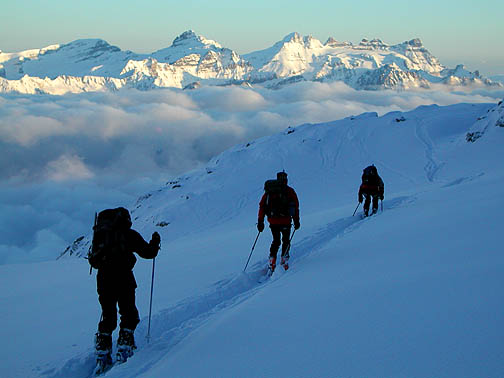 An early morning start from the Trient Hut. We have descended about 500 feet so far, with almost 4000 more to go. We'll pop over the shoulder ahead and drop steeply down toward the Col des Ecandies. After a short climb up to the Col its all downhill to Champex!
The first shot down from the Col des Ecandies. Incredible! The Col is just out of view to the right.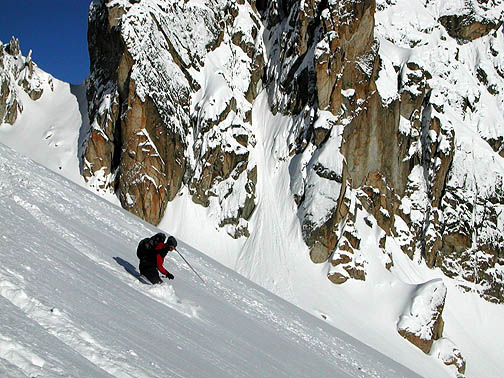 More great skiing down the Val d'Arpette!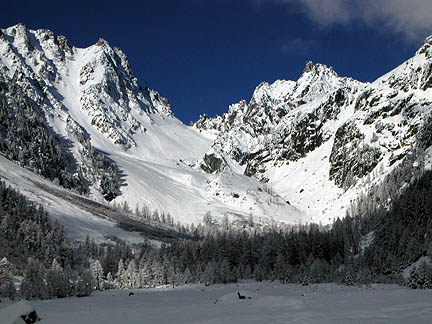 Looking back up the Val d'Arpette. The Col is in the center.
Jim, Kathy, Dave, Sam and Ken enjoy a coffee and tarte aux framboises in Champex.
A snack awaits in Champex. Life is short, eat dessert first!
The sleepy town of Bourg-St-Pierre.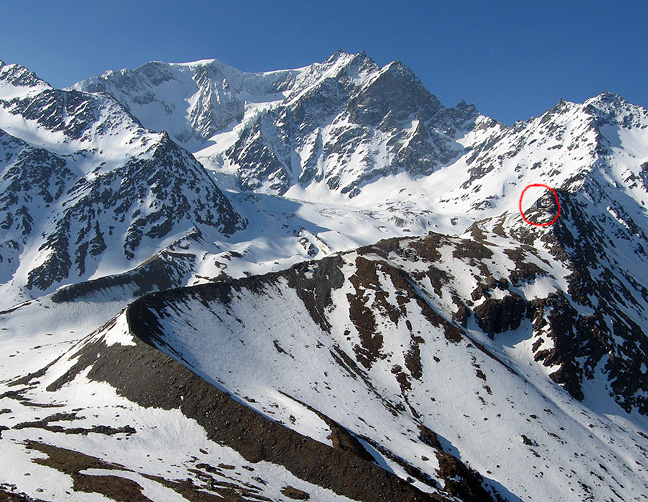 Mont Vélan with the Vélan hut marked.
Sunset from the Velan hut.
All images, layout and text © 2002 Cosley & Houston Alpine Guides, All Rights Reserved