| | |
| --- | --- |
| Plateau Haute Route day to day description, map and photos | |
Day 4 - Cabane Vélan, Mont Vélan to Cabane de Valsorey
This is a big day! Starting very early from the Cabane du Mont Vélan we ski up the Glacier de Tseudet and cross the Col de la Gouille at 3150 meters (10,330 feet). Crossing the Col is quite steep, with a mix of rock and snow on both sides of the pass. If we are lucky the in-situ chains will be free of snow, makng the crossing somewhat easier.
Once past the Col we continue up the Glacier du Valsorey to the broad summit at 3727 meters (12,225 feet). On descent we can either follow our route of ascent down, but preferable is to drop down a steep couloir to the lower Glacier du Valsorey. We then cut across to intersect the normal route to the Valsorey hut at about 2400 meters.
A final long climb leads steeply up to the Valsorey hut.
Day 4 - Cabane Vélan, Mont Vélan to Cabane de Valsorey

Ascent

1806 meters

5924 feet

Descent

1418 meters

4651 feet
The route on Mont Vélan. The Cabane du Mont Vélan is on the right. The preferred descent is on the left. This photo was taken from just bove the Valsorey hut.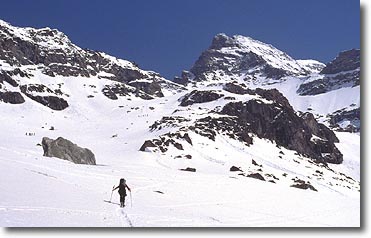 Skiing up to the Valsorey Hut with the Grand Combin behind. Though it is hard to describe in this image, the hut sits on a high rock outcrop under the summit of the peak. You can just make out the upper part of the long slope leading up to the Plateau du Couloir on the right side of the photo. The Plateau is a broad and relatively level area at the top of this slope.
On this particular day the sun was so hot that skiing up the slope above Kathy (she is the skier) that it felt more like a sauna than a snow slope. Fortunately, we reached the hut and got off the slope before the snow softened much.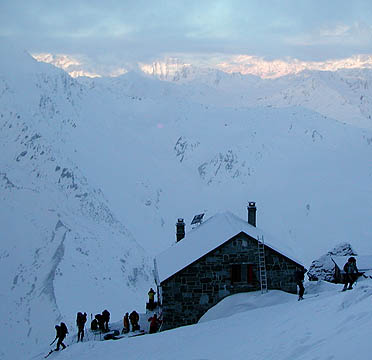 The Valsorey hut. This shot was taken in the early morning, looking SW. The peaks of the Mont Blanc massif are seen catching the morning sun.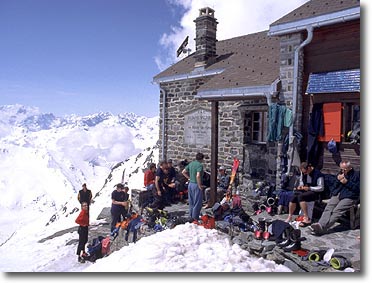 Drying gear at the Cabane de Valsorey.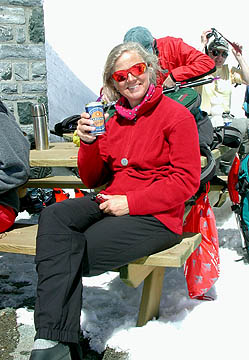 Kathy enjoys a Cardinal beer at the Valsorey hut.
Sunrise on Mont Vélan.
All images, layout and text © 2002 Cosley & Houston Alpine Guides, All Rights Reserved