| | |
| --- | --- |
| Ortler ski tour day to day description and photos | |
Day 7 - Pizzini hut to Solda
This day will end back in Sulden, one way or another! Routes we have taken to get there have included via Monte Cevedale (if we haven't yet gotten that done before this!); a combination of Punta del Lago Gelato and Cima di Solda, or heading straight over the Cima di Solda and down the north-facing Sulden glacier back into the ski area, then taking in an "off-piste" descent from the ridge north of the pistes, and dropping straight into town from there. Again our choices will depend on weather, conditions, what we've got left to "pick off", and the interests of the group.
Day 6 - Pizzini hut to Solda

Ascent

676 meters

2217 feet

Descent

1466 meters

4808 feet

includes skiing the Cima di Solda
Day7 - Pizzini hut to Solda


Click on pins and lines for lables.
Gaining the Passo del Cevedale by a steep boot-pack.
Climbing up the Suldenspitze.
Nearing the top of the Suldenspitze with the Zufall glacier behind.
We drop over the shoulder of Suldenspitze to gain the Sulden glacier.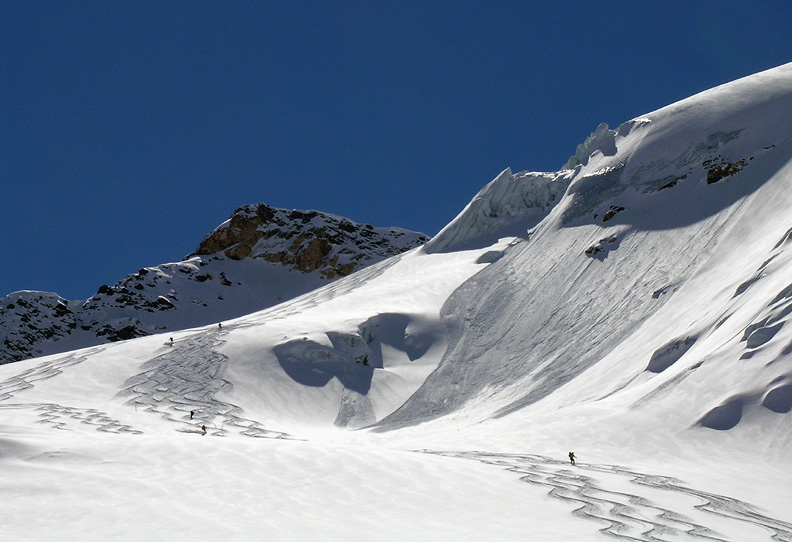 Descending the north-facing Sulden glacier in good powder snow conditions!
Descending from the summit of the Gran Zebru, which we once did on our last day...
Another last day's variation, off-piste behind the Sulden ski area.
A very steep drop into complex moraines and bowls above town.
Lovely corn snow mid-way through our long descent into Sulden.
All images, layout and text © 2011 Cosley & Houston Alpine Guides, All Rights Reserved