Photo Information - Mount Tasman
Return to the December 2000 Newsletter page.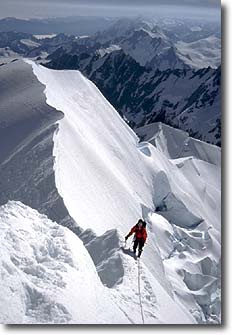 On Mount Tasman, New Zealand
Mike begins the final climb up the steep and steppy summit ridge of Mount Tasman. Behind him to the left is a short section that was so traversy and tenuous that we ended up shortening the rope and each of us climbing on a separate side of the ridge! We each front pointed on our respective sides, sometimes staring each other in the face, sometimes too low to see each other and flipping the rope along the crest as we went. It felt weird, but very secure!
All images, layout and text ©2000 Cosley & Houston Alpine Guides, All Rights Reserved