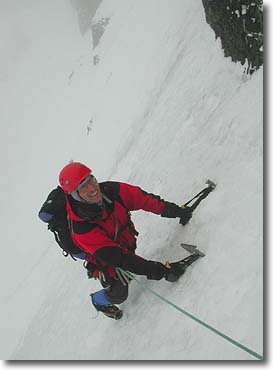 Photo Information - Athabasca North Face
Return to the July 2001 Newsletter page.
This photo shows Chris Kulp high on the regular North Face Route on Athabasca, at the Columbia Icefields, Banff, Canada. This is pitch 6 of 9 and we are approaching the crux mixed section of the route, a short steep step with thin ice.
The North Face is one of the most popular medium difficulty ice routes in the area, if not the entire Canadian Rockies. It is generally fairly safe, offers an interesting and challenging crux pitch. On this day we were in cloud for virtualy all of the ascent.
All images, layout and text ©2001 Cosley & Houston Alpine Guides, All Rights Reserved