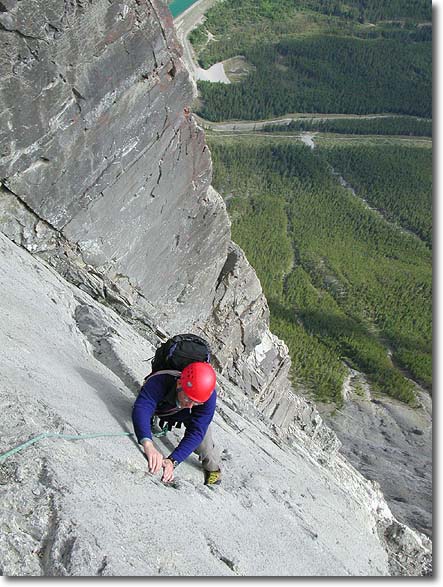 Photo Information - Ha Ling Peak
Return to the July 2001 Newsletter page.
Chris Kulp moves up a crack on one of the last pitches on the Rockies classic NE Face of Ha Ling Peak.
This mountain towers above the town of Canmore, and sports a number of great rock routes. Nearly all of them are quite hard, but the NE Face offers classic alpine rock climbing at a reasonable 5.6 grade.
In this photo you can see the upper dihedral which if followed for three pitches. It is a beautiful corner and really much easier than it looks. From the very bottom of the corner one can traverse right about 60 feet to join the last 6 pitches of Sisyphus Summits, a long bolt protected route. The last 6 short pitches are mostly 5.9 with a move or two of 5.10a.
All images, layout and text ©2001 Cosley & Houston Alpine Guides, All Rights Reserved