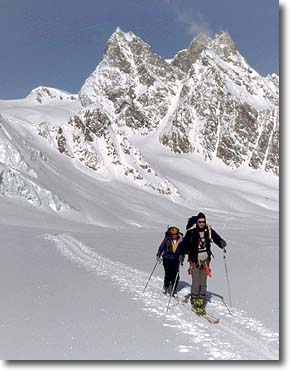 Photo Information - Haute Route
Return to the July 2001 Newsletter page.
In this photo, Stowe Kelner and Dave Landman are skiing up the Haut Glacier d'Arolla in Switzerland. This is our last day of of 7 this Haute Route trip and we had perfect weather and conditions for it. Earlier in during this tour the Weather had been variable (to put it politely) and we had struggled through some white out conditions. However, the poor weather did two wonderful things for us. First, it laid down lots of new light snow, great powder skiing. And second, it kept the crowds down. In fact, in two of the huts, the Trient and the Prafleuri, we were the only people there (aside from the hut keeper).
And as you can see here, the weather cleared up just in time for this last and very demanding day from the Vignettes Hut all the way to Zermatt. You can just see the Col de l'Eveque on the left edge of the photo. This was the first of three passes crossed this day.

All images, layout and text ©2001 Cosley & Houston Alpine Guides, All Rights Reserved