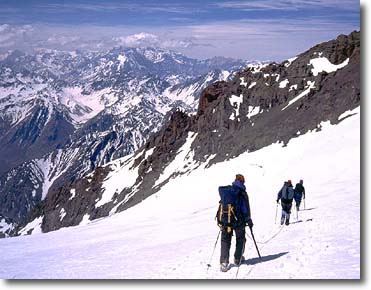 Photo Information - Climbing on Juncal, Chile
Return to the July 2001 Newsletter page.
Jennifer Wolfe, Jane Sheldon and Roseanne Engelhardt descending toward high camp at about 18,500 feet on Nevado Juncal. The South Face of Aconcagua is just out of sight to the left, about 25 miles away.
This was our summit day and a gorgeous day it was, so warm, in fact that the snow even began to get a bit mushy at the end of the day, not so common at about 18,500'. The route down crosses the glacier before heading more steeply down. Often climbers place a high camp higher than ours, in the rocks ahead of us.

All images, layout and text ©2001 Cosley & Houston Alpine Guides, All Rights Reserved