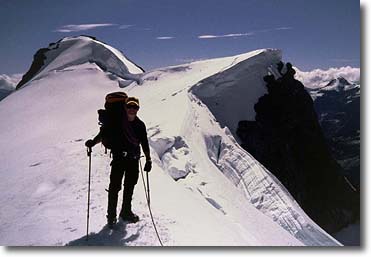 Photo Information - New Zealand
Return to the July 2001 Newsletter page.
Here Andy Latham is beginning the descent of the incredibly scenic French Ridge after climbing Avalanche Peak en route from the Colin Todd Hut. This was a gorgeous day, beginning in the pre dawn and ending in the early evening at the brand new and very comfy French Ridge Hut. Avalanche Peak was an impressive climb, on slabby rock from which snow and icicles were melting after the previous day's storm.

All images, layout and text ©2001 Cosley & Houston Alpine Guides, All Rights Reserved