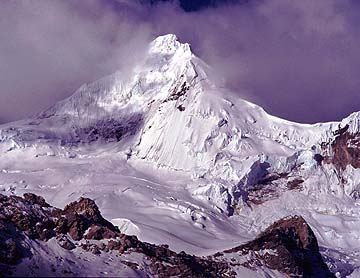 Photo Information - Tocllaraju, Cordillera Blanca, Peru
Return to the March 2002 Newsletter page.
A shot of Tocllaraju from about half way up Urus. This is a beautiful peak rising above the Ishinca valley, not far from Huaraz. The climb is normally done with one high camp above a base camp in the valley. There are other great peaks to climb in this area, and it offers perhaps the greatest variety of different types of climbs in the Blanca.
All images, layout and text ©2002 Cosley & Houston Alpine Guides, All Rights Reserved