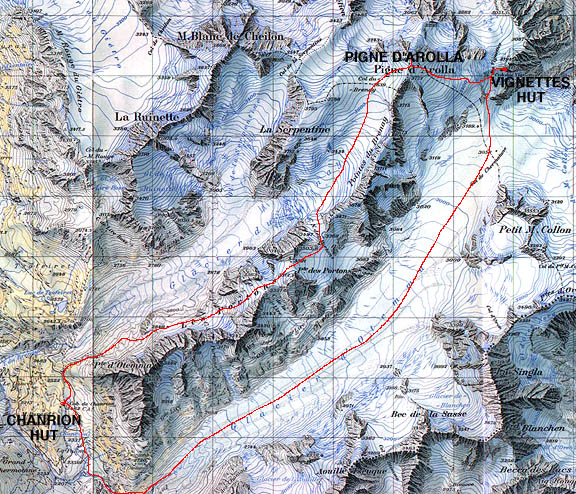 The route snowing the Classic variation, Day 6.
Classic Route: There are a number of variations to this day. Our goal is the Vignettes hut and all routes end there. Our favorite route is to climb over Les Portons, a high col, with exceptional views. From here, a quick descent to the north brings us to the upper Glacier du Brenay. Gentle slopes lead to the summit of the Pigne d'Arolla. The Pigne usually offers a great descent down to the Vignettes Hut.
This is a very fine day, long and varied but with incredible views throughout. There is one short section where we normally have to carry our skis, the crossing of the Col Nord des Portons. One of its pleasures is the great ski down the Pigne d'Arolla at its end.
If the weather is not good we will be unable to climb over the Pigne, and, instead, ascend the long Glacier d'Otemma. We cross the broad Col de Chermotane and then up to the Vignettes Hut. This route up the Otemma is easier, quicker, and also a good alternative for particularly tired skiers.
Both routes are marked on the map to the right. All the photos on this page are from the Les Portons route.
Verbier Route: This is the day where the Classic Route described above and the Verbier Route join.
From the Dix hut we cross the Glacier de Cheilon, and climb the Glacier de Tsena Refien, at first steeply then more gently to near the Col de la Serpentine. A short but quite steep climb, often done on foot with crampons, leads to the gentle slopes near the Col du Brenay, where we join the Classic Route coming up from the south. Both routes lead easily up to the Pigne d'Arolla and the great descent to the Vignettes hut.